Performances
---
Current Calendar for the year with information below on upcoming shows:
10/15/22: Fall Fest at the College of St. Elizabeth's Outdoor Greek Amphitheater

10/22/22: Chatham Borough Farmer's Market

10/22/22: Light the Night Leukemia and Lymphoma Walk Pre-Show

12/10/22: 2:30pm and 6:00pm: Nutcracker at Dolan Theater at College of St. Elizabeth

12/13/22: Holiday Show for Chatham Library

1/9/23: Holiday Show for Kessler Institute for Rehabilitation in West Orange, NJ

1/27/23: 7:30pm Shakespeare Theatre Show at Drew University

2/11/23: Matilda Jr. at the Chatham Methodist Church Rodda Hall

3/4/23: Peridance Theater, New York, NY

5/6/23 or 5/7/23: Abilities Expo Performance

5/6/23 3:00: Musical/Cabaret Performance at Camp Jefferson Outdoor Amphitheater

5/11/23-5/15/23: Florida Tour Shows in Disney, University, and Give Kids the World

5/24/23 6:30-10:30pm: Kids for Kids Awards Gala and Benefit, Brooklake Country Club, Florham Park, NJ

6/10/23: Recital shows at Chatham Middle School
Performances below are upcoming shows with the soonest event first. You can view performances planned up to 6 months in advance.
Matilda Jr.!
---
Date: February 11, 2023
Location: Chatham United Methodist Church, 460 Main Street, Chatham, NJ
---
Our musical cast and dancers will be showing Ronald Dahl's "Matilda Jr. the Musical" this year!
Book By Dennis Kelly
Music and Lyrics by Tim Minchin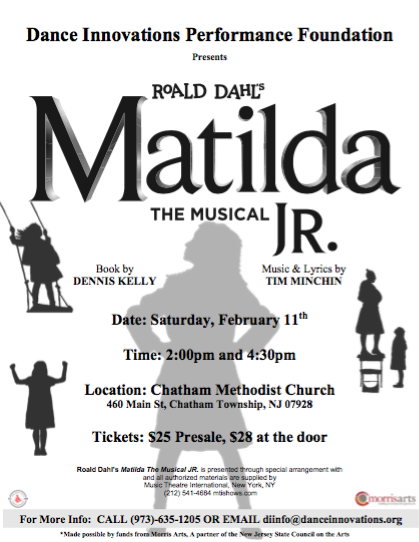 Peridance Performance - DIPF Performance
---
Date: March 4, 2023
Location: The Salvatore Capezio Theater at Peridance, 126 E 13th Street, NYC, NY
---
The Dance Innovations Performance Foundation is proud and pleased to host another unique and exciting performance at The Salvatore Capezio Theater at Peridance. This is an innovative program of contemporary, modern & jazz dance with showcased original works from Dance Innovations professional staff and special guest artists!